A day in the city: Oxford
You've picked up your cycle.land bike and you have a day to spend exploring the city. where do you go?
Cycling around Oxford on a sunny day, admiring the buildings, trees and parks is a wonderful way to explore in its own right, but if you want some specific destinations, here are some of my favourite places.
Coffee
Sit down and plan your day in one of Oxford's many speciality coffee shops. Do you like espresso or filter coffee? Do you want breakfast? Lunch? How about cake? Sit in or take-away?
Take your pick! Oxford does coffee very well indeed.
North and Central
The Missing Bean - super friendly, busy, own-roast beans, espresso-based coffee but delicious bottled cold brew in the summer, home-made sandwiches, soup, and cakes to suit all dietary requirements.
BREW - tiny and intimate place, home-baked cakes, music on vinyl, beans roasted by Roundhill, espresso and pour over coffee
Society Cafe - Origin house espresso and filter coffee, brilliant selection of guest coffee, sandwiches/cakes/pastries, plenty of space and excellent reading material
Handle Bar Cafe - coffee shop above a bike shop. Home-baked cakes, dine-in food cooked on-site, loads of space. Downstairs you'll find free use of a bike pump to inflate your tyres and knowledgeable staff to answer any bike-related questions.
Barefoot Kitchen - amazing and beautiful cakes, loose-leaf tea, espresso-based coffee roasted by Jericho Coffee Traders, loaves of bread to buy, little garden at the back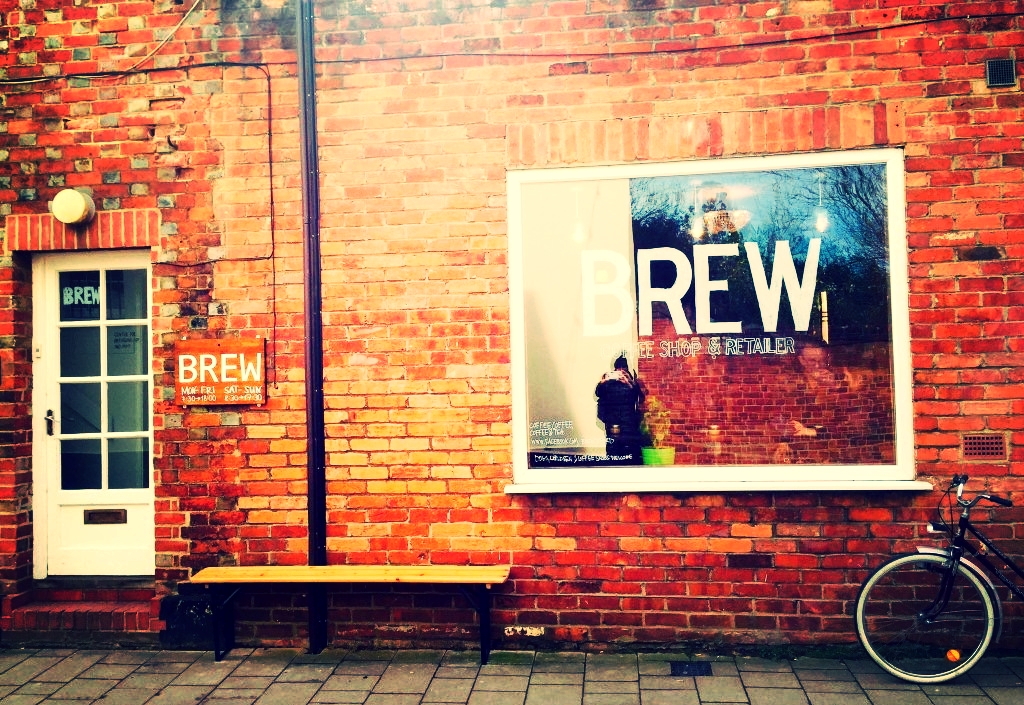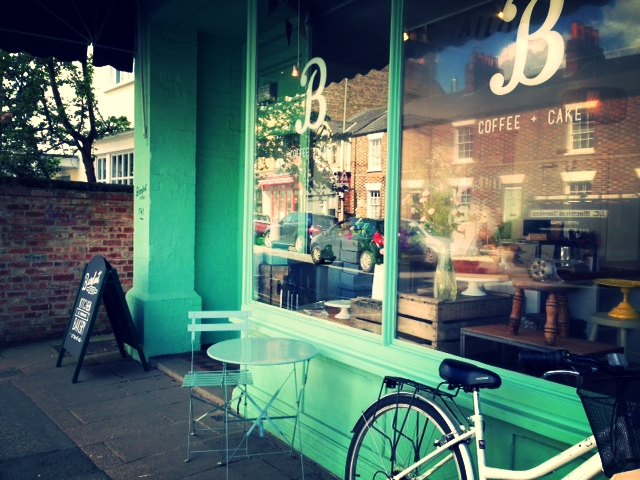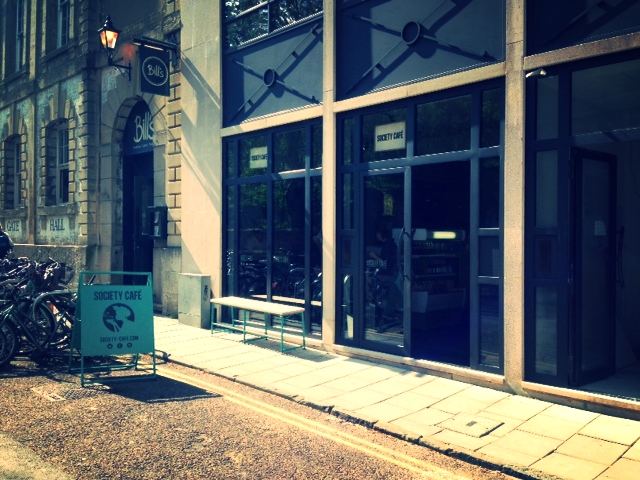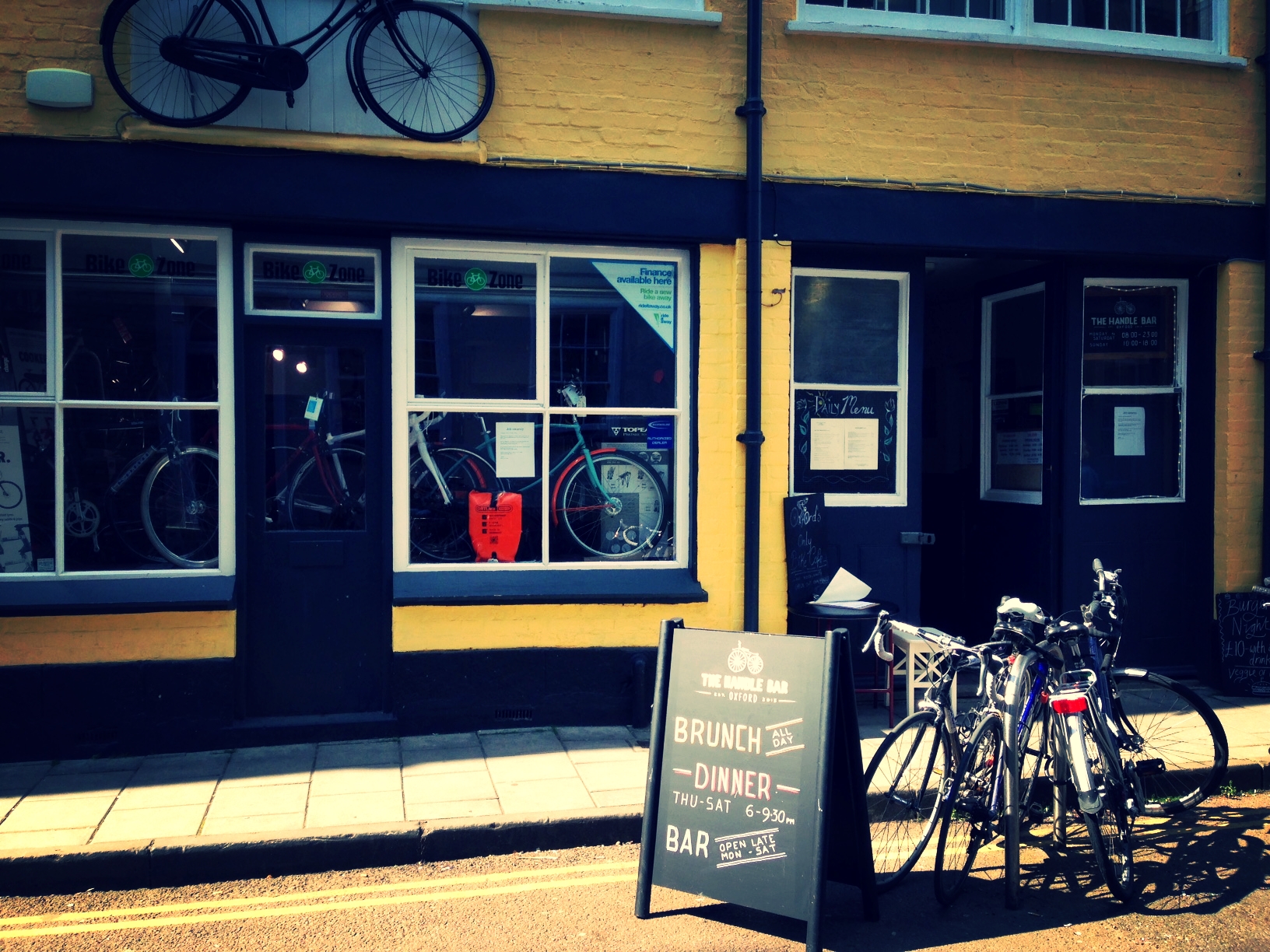 East
The Bear and the Bean - small with a friendly community vibe, coffee roasted by Caravan, you can take your brew outside to sit in the sun and watch the eclectic mix of Cowley Road inhabitants pass you by. They also sell cards, clothes and gifts.
The Missing Bean roastery - cafe and roastery in a light and open space, serving espresso and filter coffee - choose from single origin beans, watch the roasting happen
Mostro coffee - inside Truck Store record shop, they have a syphon, coffee comes however you like it - just ask! Serve homemade brownies and flapjacks.
Suitably caffeinated? You're ready to go!
Daytime
Oxford is enchanting in all seasons, and bike is by far the quickest and most rewarding way to get around and explore. It's a small and intimate city, almost nowhere takes longer than a 30 minute cycle to get to, and most places take much less time to reach. Some of my favourite streets are only accessible to pedestrians and cyclists, which means that drivers miss out on the beautiful hidden delights of this wonderful city, such as Church Walk which leads to North Parade - the home of a little coffee shop called BREW (see above), a produce store that has the most fantastic cheese, the historical Rose and Crown pub, and a street market that appears on the 2nd and 4th Saturday of the month.
The Gardeners Arms - the one on Plantation Road, which is a beautiful little street that you should cycle down even if you don't visit the pub, as it runs from Woodstock Road to Walton Street (full of delis, restaurants, and The Pheonix Picture House). I've featured this pub in the daytime list because it has a lovely beer garden that catches the sun right through to the evening.
St Sepulcre's Cemetery - a peaceful, secluded spot in Jericho. You can buy lunch from one of several excellent delis on Walton Street (Branca Deli for pizza slices and totally addictive creamy mushroom gnocchi, or Manos for stuffed-full Greek wraps) and take off down the stoney track to the left of Londis. After the initial feeling of trespassing you'll arrive at a beautifully wild cemetery, full of trees and wildflowers. There are wooden benches nestled in amongst flowering herbs where you can sit to eat, or read, or whatever you like.
Port Meadow - undoubtedly one of the most beautiful places in Oxford to walk or cycle through and take a picnic. Watch the rowers on the river, walk by the canal, visit The Perch for lunch or evening food and drink (there is an extensive beer garden and a magical, fairy-like lighted trail to get there). There are places along the river where you can swim during summer.
The Covered Market - home to butchers, fisheries, grocers, cafes, cobblers, clothes and shoe stores, cafes, lunch places, and tea shops. A central place to go to support local producers and to stay away from supermarkets and chain stores. Some shops in the market will be closed on Sunday.
University Parks - this is a brilliant place to go in all seasons. But I like it best in Winter when all is bare and cold but the evergreens soldier on and it is still populated by people walking through, wrapped in coats. You'll have to leave your bike locked outside the gates, to allow for maximum peacefulness for walkers, joggers and picnickers.
Modern Art Oxford - a home for contemporary art. Free-entry to exhibitions, reasonably priced and nicely stocked gift shop, and spacious cafe. I always enjoy spending time looking through the art books in the shop, and nearly all the exhibitions result in a conversation with friends so it's most definitely a worthy place to visit. Closed on Monday.
The Old Fire Station - an arts centre and public space that hosts exhibitions, workshops, and offers studio space and use of a theatre to showcase music / drama / comedy. It's about making art accessible to everyone. There's a cafe, and a shop that sells gifts, magazines, and original artwork. Each time I go there is something new to see.
Evening
The Rickety Press - serves half-price burgers on a Monday evening. Served rare and dripping with all manner of greasy deliciousness, my American friend tells me these are proper hamburgers. You can't book a table so turn up early and at some point you're likely enough to get a seat. Busy, unhurried, with a happy vibe. They have a sister pub called The Rusty Bicycle in East Oxford (a road that is also home to Oli's Thai and The Missing Bean roastery) so whichever side of the bridge you're on, be sure to check in.
Ultimate Picture Palace (UPP) - Located in a grade II listed building, first opened in 1911, UPP is an unpretentious, independent cinema just off Cowley Road. There's a licensed bar at the back, where you can also get a mug of tea. It has the atmosphere of a large living room and the seats are armchair-comfortable. There's a good distance between the screen and the seating, so there need be no craning of necks if you're seated in the front row.
Oli's Thai - I've mentioned this restaurant briefly above, but it deserves its own section. A small Thai restaurant on Magdalen Road in East Oxford, it's considered one of the best (if not THE best) places to eat in Oxford. And it absolutely lives up to the hype. It's booked about 3 months in advance for evening dining but don't panic because you're likely to get a table at lunchtime, or if you're alone or in a pair you can be squeezed in at the bar. The savoury dishes are divine, and the Portuguese custard tarts will ensure you return. I believe that the infrequency of my visits here make it all the more special.
Port Meadow - this features in my daytime list too, but I've had some of my most memorable nights sitting by the river in the evening sun, drinking beer and dangling my feet in the water (and sometimes jumping in). It's wonderfully picturesque to cycle through the meadow to reach the river, and if you get a bit chilly later on you can head to The Perch. Make sure to take bike lights for your cycle home. And clear up any empty beer cans.
New places are opening in Oxford all the time, and this list barely covers the fantastic independent shops, cafes, and restaurants that the city is home to. This is a start, but the best way to explore is by keeping your head up, your eyes alert, and taking your bike off-road down those untrodden alleys and paths. Find your own way through the city and you won't be disappointed.