Meet Jake. He tells us about campaigning for better cycling infrastructure in Oxford, his love of coaching youth cycle teams, the importance of holistic and systemic thinking to see the role of cycling not just as transportation but for healthier and happier cities -and his work with Coca-Cola to engage some of Europe's largest retailers on environment and sustainability.
I've been in Oxford for about 14 years.
I'm a Committee Member for Cyclox, which is the voice of cycling in Oxford.
I am a Level 2 British Cycling coach and I train Zappi Racing Team CatA's+ who are typically 14-17, and I also set up a cross club initiative called Oxfordshire Youth Cycling. I have now trained 4 national champions, but essentially we just go out into the wonderful Oxfordshire countryside every weekend and have fun riding.
I have my own company called Empathy Sustainability. I have helped a local Oxford printer (Seacourt) to become demonstrably the most sustainable in the UK by becoming Net Positive for the environment and society.
When did you first start cycling?
I started cycling initially when I was a teenager because I didn't have a car. My parents lived in the middle of nowhere, there wasn't even a shop and the nearest town was 6 miles away. When I went to university I still didn't have a car, so cycling for me at this early stage was all about getting from A to B.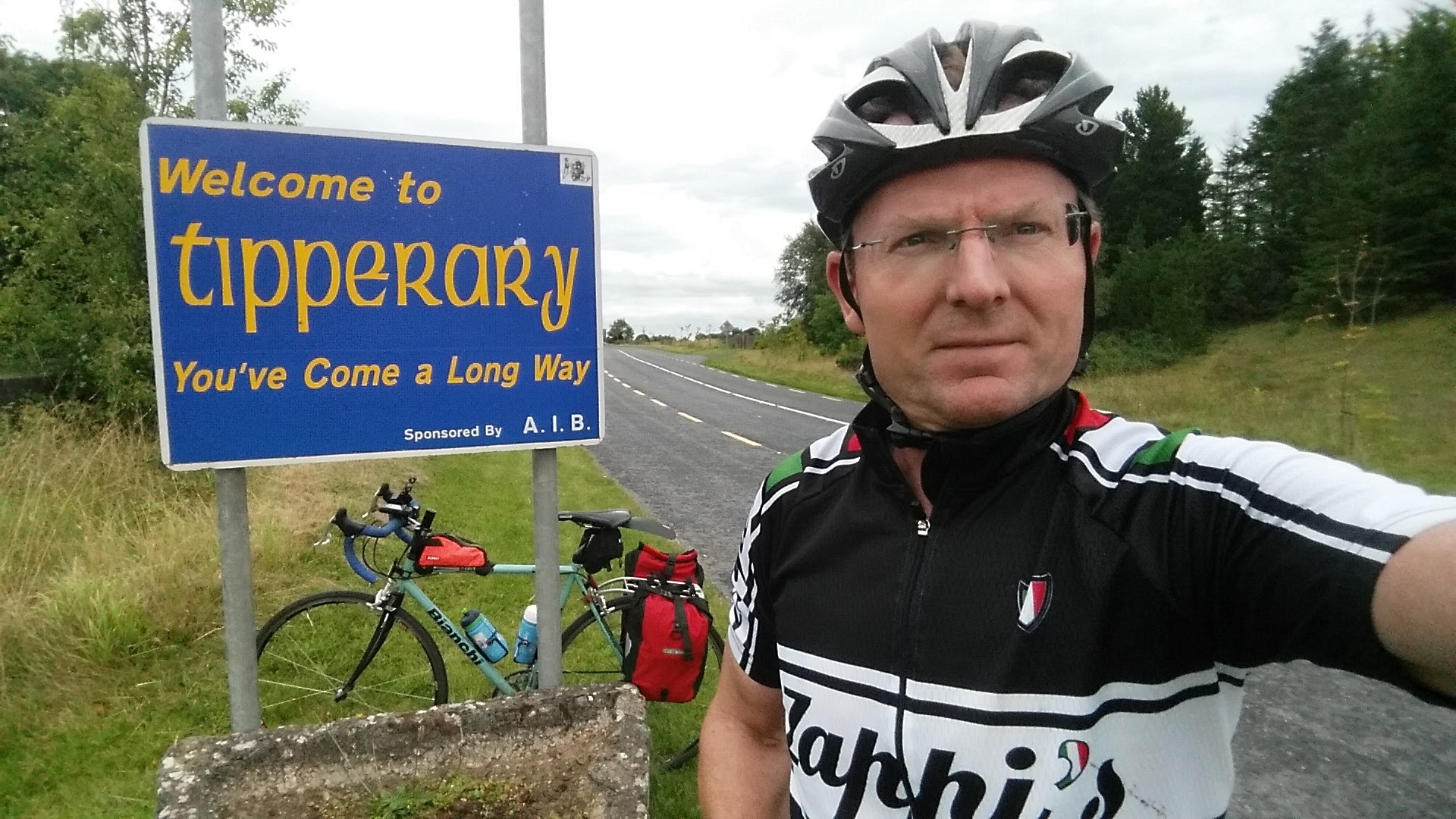 "We have a rule in our house now that you don't drive somewhere if it's possible to get there by bicycle."
(for Jake, this rule includes Ireland)
Then in my mid-40s, the company I was working for said that I could cycle one leg of Land's End to John O'Groats for free because they were sponsoring it, so I chose the Cornwall stretch. Over 9 days each section is 110 miles each day approximately. It turns out that Cornwall is the hilliest section of the whole route. So I thought I'd better join a cycling club to get some advice.
Getting into club cycling
I turned up for a Zappi's club ride and they took one look at my bike and said to turn my handlebars the other way around, that my tyres were under-inflated and my brakes are terrible. With some slight modifications I went out with them anyway, sitting on the back of the group quite pleased with myself, until about 40 miles along when I 'bonked', too tired to carry on. I was kindly accompanied home and learnt several lessons!
Oxford is a fantastic city to get about by bicycle. Cycling is so much quicker, less stressful, more pleasant. So now I have this blend between cycling from A to B, and cycling as part of a club, as a hobby, as a sport, and leisure cycling.
CYCLOX
Cyclox campaigns for better infrastructure in Oxford, but I've also tried to do some campaigning given the current infrastructure - for example, how can we get all road users to be more considerate of each other? Our social media engagement is now No.1 in the UK for cycling campaign groups (versus our city size).
JAKE Was one of the first members of cycle.land
I knew Peter and Agne and they encouraged me to sign up after they explained to me about the concept. I don't even know how many bicycles I have. I have bicycles of every type - a folding bike, a fixie, a tandem (at one point I had a triple tandem), a cargo bike, a steel bike, an aluminium bike, a carbon bike. The list goes on. I am now in a bike downsizing phase -not going entirely successfully.
My most successful hire has been my cargo bike that I listed on Cycle.land. A family came from America for a couple of months and they wanted to take their children around the city without driving. They borrowed that for a couple of months and it was great to see them using the bike in this way.
How did you become interested in sustainable transport?
My job is in sustainability so I have a particular interest in sustainable transportation and how this is linked to things like obesity, health, social inclusion, and air quality. It's all connected.
I'm also doing a study in Oxford to measure air quality, to map the whole city as if you were on a bicycle, or going by car, taking public transport, or walking, and then looking at what difference the time of day makes, or taking alternate routes, with one meter segregation, to give people data based on health impacts.
I also spent some time working for Coca-Cola.
What did you do for Coca-Cola?
I started as a Global Account Director, and after that I became a Commercial Leadership Manager for Coca-Cola Europe. Then I saw a programme on TV about the glaciers melting in Greenland because of global warming. I asked my neighbour about it - a lecturer at Oxford University on Climate Science. This is something that we need to do act on! I knew that we must engage our largest customers on environment and sustainability because it's a big risk if we don't, and a big opportunity if we do.
I had the chance to go to Antarctica, to see global warming and the amazing wildlife first hand. A two week trip where I really got pumped up on sustainability, so I came back to Coca-Cola to work full-time on sustainability. I was one of the first people to call on some of Europe's largest retailers from a branded company and start the conversation about sustainability.
I think that one of the biggest problems in sustainability is communication. We know about climate change, we know what to do, we've got the resources to do it and it will cost less than we spend on the military, but we're not doing it.
How can we apply this knowledge to get more people cycling?
It's partly about communication and behaviour change. If you want someone to become a cyclist, the best thing you can do is to get them to try cycling. Attitudes don't drive behaviours, behaviours drive attitudes. This is what cycling campaigns do, they get people cycling by encouraging people to first just give it a try. Borrow a bike from Cycle.land and go out with a friend. Just give it a go!
It's a great way for people to see how active, healthy and sustainable a cycling lifestyle is. If you are a car driver and you cycle at the weekends, it will make you less antagonistic to cyclists on the road.
I really enjoy taking them out, they are such a laugh. They are just relentless, they smash it up the hills and when I've asked friends who are racers to come with me, and they think it will be a bit tedious and a bit slow, they are always surprised.